Whenever we talk about diasporic literature, Jhumpa Lahiri is one of the many names that NET aspirant cannot skip studying.
The author is important from the UGC-NET perspective since she is one of the few authors who have been awarded the Pulitzer Prize. (Siddhartha Mukherjee is another one whose work The Emperor of All Maladies: A Biography of Cancer won the Pulitzer award in the non-fiction category in 2011.)
Jhumpa Lahiri debut with Interpreter of Maladies, a short story collection and her another title The Lowland was longlisted for the Man Booker Prize 2013.
Other important diasporic writers are Salman Rushdie, Shyam Selvadurai, Caryl Phillips, Derek Walcott, etc. All of these writers are more or less important for your examination.
Often there are questions from works by Salman Rushdie. It would be a good thought if you at least remember all the titles written by Salman Rushdie. Titles like Shame, Satanic Verses, Quichotte, etc have already been asked in TGT | PGT and UGC-NET exams.
Coming back, Jhumpa Lahiri has now moved from writing in English to Italian.
Her first book in Italian, In Altre Parole, took her readers by surprise.
Unlike her previous works, In Altre Parole is a non-fiction work published in 2015, she sat again to write her second work in Italian a few years later.
This time the work came out was a fiction titled Dove mi trovo. The work has been translated into the English Language with the title Whereabouts which was released worldwide in April 2021.
Whereabouts By Jhumpa Lahiri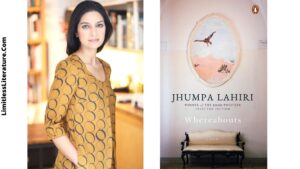 Whenever we talk about contemporary writers, every year there are a couple of questions that had been asked from such writers.
You can have your safe side if you know a little about this latest work of Jhumpa Lahiri.
In case, if you want to read the text in-depth, you can order the book from Amazon by clicking here. The novel is 123 pages long.
Though I haven't read Whereabouts, I'm well acknowledged by the writing style of Jhumpa Lahiri. I've been through her other novels The Namesake and another one I mentioned above, Interpreter of Maladies.
So now let's quickly talk about some details that might be relevant for you to remember.
Whereabouts is the story narrated by a nameless middle-aged narrator, living in Italy. In between the covers, the narrator talks about her mother, her friends, her profession of teaching, how she was cheated by her ex-lover for five years, and her experiences of solitude and loneliness.
In short, the novel or rather we can say the novella is about a woman who takes the reader from her daily chores to the inner engineering of her thoughts. She is lonely, but not depressed.
She is without children but is actively engaged at her job and living an independent life on her own terms, achieving her dreams and freedom. Like every other human being, she has her own mistakes and regrets, but she is content and at peace with herself.
 "Each chapter an espresso shot of regret and loneliness … This is a book about belonging and not belonging, place and displacement" ― Guardian
Click here to know more about this unusual literary and linguistic feat, Whereabouts.
Jhumpa Lahiri and Italy
In the year 2012, Jhumpa Lahiri, her husband and their two children moved to Italy.
She gave up English and decided to immerse herself in Italian culture and tradition. In doing so, she opted for the Italian language for her reading and writing as there is no better way to learn about any culture than learning its language.
Born to Bengali parents in London, United Kingdom, later moved to the United States, where she penned down her first work Interpreter of Maladies, she found her home in Italy and not thinking of returning to English any soon.
Concluding
Rome and Italy have inspired many works in English writers. In the age of Elizabethan, we find Shakespeare's dramas set in Italy, such as Othello, The Merchant of Venice, Antony and Cleopatra, etc.
Similarly, Henry James's Italian Hours and Nathaniel Hawthorne's The Marble Faun too is set in Italy. You cannot afford to forget that the artistic movement Renaissance also begun in Florence, Italy during the 14th Century.
Concluding, there are so many works and artistic movements that originated in Italy. Jhumpa Lahiri is one of those successful writers who has established herself as a well-known writer in Italy in the past few years.
Whereabouts is as important as her other works for your upcoming examinations.
Have you read any of her Novels? Let me know in the comments below. Also, let me know how's your preparation going on for your examinations. Thanks!